HOMO PATIENS:
Approaches to the patient in the ancient world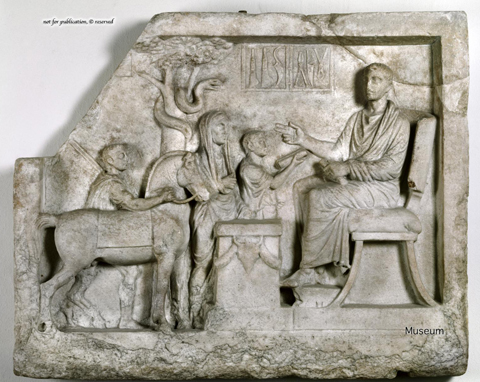 Grave Relief or Votive Relief for a Heroized Physician.
Staatliche Museen zu Berlin, Antikensammlung, Altes Museum, Inv. Sk 804
photograph by Ingrid Geske
The research programme Medicine of the Mind, Philosophy of the Body - Discourses of Health in the Ancient World is organizing an international conference, to be hosted at the Humboldt-Universität zu Berlin, from Friday, June 29, till Sunday, July 1, 2012.
This will be a three-day international conference that aims at bringing together not only classicists and historians of medicine but also medical anthropologists and medical practitioners to discuss the figure of the 'patient' in ancient medicine. In particular, this meeting aims at shifting the focus from the ancient doctors' authoritative discourses about their profession, knowledge, theories and practices to reconstruct, to whatever extent this is possible, the role, position and experience of the patient.
If you wish to participate, please fill out the registration form (MS Word file) and email it to Ms Stefanie Jahnke (stefanie.jahnke.1@staff.hu-berlin.de) no later than May 31, 2012. There are no conference fees.

Please click here to see the full programme (pdf file) and here for the abstracts of the conference papers (pdf file).
At this stage, we would advise the participants of the conference to make their own arrangements regarding travelling and accommodation. Please click here for a list of options for accommodation, food, and travel (pdf file).

For further inquiries, please contact the organisers:
Georgia Petridou (georgia.petridou@hu-berlin.de)
Chiara Thumiger (chiara.thumiger@hu-berlin.de)