HOMO PATIENS: Der Patient in der antiken Welt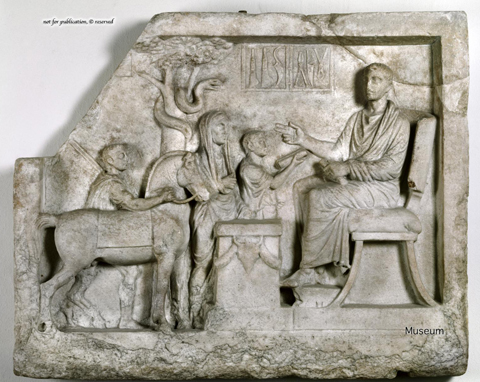 Grab- oder Weihrelief für einen heroisierten Arzt.
Staatliche Museen zu Berlin, Antikensammlung, Altes Museum, Inv. Sk 804
Foto: Ingrid Geske
Das Forschungsprojekt Medicine of the Mind, Philosophy of the Body – Discourses of Health in the Ancient World lädt ein zu einer internationalen Konferenz an der Humboldt-Universität zu Berlin, von Freitag, 29. Juni, bis Sonntag, 1. Juli 2012.
In dieser dreitägigen Konferenz sollen nicht nur Altertumswissenschaftler und Medizinhistoriker, sondern auch Medizin-Anthropologen und praktizierende Mediziner zusammengebracht werden zu einer Diskussion über die Rolle des Patienten in der antiken Medizin. Insbesondere soll der Fokus von den autoritären Diskursen antiker Ärzte über ihren Beruf, ihre Kenntnisse, Theorien und Praktiken verlagert werden zu einer Rekonstruktion (soweit möglich) der Rolle, Position und Erfahrung des Patienten.
Wenn Sie teilnehmen wollen, füllen Sie bitte das Anmeldeformular (MS-Word-Datei) aus und schicken es per Email bis spätestens 31. Mai 2012 an Stefanie Jahnke (stefanie.jahnke.1@staff.hu-berlin.de). Es werden keine Konferenzgebühren erhoben.

Sie finden hier das vollständige Programm (pdf) und hier die Abstracts der Vorträge (pdf).
Wir empfehlen den Teilnehmern der Konferenz, ihre Anreise und Unterkunft selbst zu organisieren. Hier finden Sie eine Auswahl von Hinweisen für Unterkunft, Verpflegung und Anreise (pdf).
Für weitere Informationen wenden Sie sich bitte an die Organisatoren:
Georgia Petridou (georgia.petridou@hu-berlin.de)
Chiara Thumiger (chiara.thumiger@hu-berlin.de)