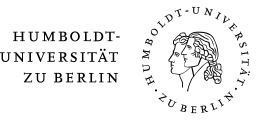 CV and publications
Ricarda Gäbel (born in 1989) studied Classics at the Humboldt-Universität zu Berlin from 2008–2013. She attained her Bachelor of Arts in 2011 writing a thesis entitled "Soul, Pneuma and Phrenitis – Ancient Theories on the cavities of the brain" and her Master of Education in 2013 with a thesis on Aetius of Amida. In October 2013 she started her dissertation project under the supervision of Professor Philip van der Eijk, and was funded by the Graduate Program in Ancient Philosophy until September 2017. As of October 2017 she is research fellow at the Institut für Klassische Philologie at the Humboldt-Universität zu Berlin and part of the SFB 980 "Episteme in Bewegung" within the project "The Transfer of Medical Episteme in the 'Encyclopaedic' Compilations of Late Antiquity". In 2018, she finished her PhD on Aetius of Amida.
Publications
Monographs
Aetius of Amida on Diseases of the Brain and Mental Illness. An Analysis of Chapters 3–10 of the Sixth Book of his Libri Medicinales with Introduction, Translation and Commentary, HU Berlin 2018 (Dissertationsschrift; in preparation for publication
Volumes edited
(with L. Lehmhaus and C. F. Salazar), Female Bodies and Female Practitioners: Religion, Culture and Medicine in the Ancient Mediterranean World. Tübingen (Mohr Siebeck) (publication envisaged for 2020)
Articles
Galen oder nicht Galen, das ist hier die Frage! Ausschluss, Ablehnung und Annahme von Wissen in den medizinischen Enzyklopädien der Spätantike oder "Negativer Transfer" at its best, Working Paper No. 23/2019 des SFB 980 Episteme in Bewegung, Freie Universität Berlin, ISSN 2199 –2878 http://www.sfb-episteme.de/Listen_Read_Watch/Working-Papers/No_23_Gaebel_Galen/index.html
Mental Illnesses in the Medical Compilations of Late Antiquity: The Case of Aetius of Amida". In: C. Thumiger und P. N. Singer (Eds.). Mental Illness in Ancient Medicine. From Celsus to Paul of Aegina. Leiden (Brill): 2018. p. 315–340.
Teaching activities
April 2011–March 2013: Teaching Assistant ("Tutorin") for first year students of Greek at the Institut für Klassische Philologie at the Humboldt-Universität zu Berlin in the following courses: Introduction to Greek philosophy, introduction to Greek historiography, introduction to Greek epic, introduction to Greek drama
Wintersemester 2014/2015: Lecturer, "Introduction to Greek philosophy", at the Institut für Klassische Philologie at the Humboldt-Universität zu Berlin ("Lehrauftrag")
Papers delivered at colloquia/conferences
December 2019: "Faszination Gehirn – Einblicke in eine spätantike Darstellung von Gehirn- und Geisteskrankheiten", delivered at the Oberseminar Professor Florian Steger at the Institut für Geschichte, Theorie und Ethik der Medizin der Universität Ulm (Ulm)
November 2019: "The Unknown Physician - Who was Posidonius and what can we learn about him from the Libri medicinales of Aetius of Amida?", delivered at the Forschungskolloquium Antike Medizin (Berlin)
October 2019: "The Unknown Physician - Who was Posidonius and what can we learn about him from the Libri medicinales of Aetius of Amida?", delivered at the International Seminar Sulla tradizione indiretta dei testi medici greci (Rome)
September 2019: "Alte Medizin in neuem Licht - Ein frischer Blick auf längst vergangene Zeiten", KinderUni 2019 at the SFB 980 (Freie Universität Berlin)
June 2019: "Verliebtheit als Krankheit des Gehirns? Eine Spurensuche in den medizinischen Kompilationen von Oribasius, Aetius und Paulus", delivered at the 39th meeting of the Interdisziplinärer Arbeitskreis Alte Medizin (Mainz)
June 2019: "Galen oder nicht Galen, das ist hier die Frage! – Ausschluss, Ablehnung und Annahme von Wissen in den medizinischen Enzyklopädien der Spätantike", delivered at the 7th annual conference of the Sonderforschungsbereich 980 Episteme in Bewegung (Berlin)
February 2019: "Love as an illness of the brain? Oribasius, Aetius and Paul and how they made use of their literary heritage", delivered at the conference Contested Heritage. Adaptation, Restoration and Innovation in the Late Antique and Byzantine World of the Oxford University Byzantine Society (University of Oxford)
January 2019: "Von manisch bis depressiv – Aetius von Amida zu Gehirn- und Geisteskrankheiten", Medizinhistorische Vortragsreihe der Friedrich-Alexander Universität Erlangen-Nürnberg (Erlangen)
December 2018: "'They suffer from darkening of vision' – The Role of the Senses in the Description of Skotoma and other Mental Illnesses according to the Late Antique Medical Compilations", delivered at the conference Sensual Reflections: Re-Thinking the Role of the Senses in the Greco-Roman World (University of Cambridge)
June 2018: "Von Melancholie und Manie – Gehirn- und Geisteskrankheiten in der Medizin der Spätantike", Lange Nacht der Wissenschaften SFB 980 (Freie Universität Berlin)
June 2018: "Preliminary remarks on Oribasius, Libri incerti 1.1", delivered at the Forschungskolloquium Antike Medizin (Berlin)
September 2017: "What did Aetius have that Oribasius and Paul lacked? Intertextuality in Late Antique Medical Compilations", delivered at the International Conference Sammlung und Fragmentierung: Medizinische Kompilationen des Morgen- und Abendlands und ihre Quellen (Berlin)
June 2017: "Ancient Medical 'Encyclopaedias' – The Case of Aetius of Amida" (together with Philip van der Eijk), delivered at the Humboldt-Princeton Workshop Encyclopedic Knowledge in and of Antiquity (Berlin)
July 2016: "Aetius of Amida on Melancholy", delivered at the Forschungskolloquium Antike Medizin (Berlin; organisation: Prof. Dr. Philip van der Eijk)
June 2015: "Mental Diseases in Late Antiquity: The Case of Aetius of Amida", delivered at the Philosophical Colloquium of the Graduate School of Ancient Philosophy (Berlin; organisation: Prof. Dr. Dr. Stephen Menn)
May 2015: "Mental Diseases in Late Antiquity: The Case of Aetius of Amida", delivered at the Forschungskolloquium Antike Medizin (Berlin; organisation: Dr. Chiara Thumiger)
January 2015: "Aetius of Amida as Source-Author", delivered at the International Workshop The Pneumatist "School" (?): Doctrines and Representation (Berlin)
October 2014: "The Presentation of Mental Diseases in Aetius of Amida", delivered at the International Conference Mental Diseases in Ancient Medicine (Berlin)
May 2014: "Aetius of Amida on the Disease Concept skotoma", delivered at the Philosophical Colloquium of the Graduate School of Ancient Philosophy (Berlin; organisation: Prof. Dr. Dr. Stephen Menn)
Scholarships/Awards/Grants
October 2011: Award for the best Bachelor Thesis at the Institut für Klassische Philologie at the Humboldt-Universität zu Berlin in the academic year 2010/2011
October 2013–September 2017: Doctoral scholarship provided by the Graduate Program in Ancient Philosophy